Esports racers Dylan Shepherd and Dayne Warren have had their first experience of driving an actual Australian Formula 4 car at Winton Motor Raceway in Victoria, as reward for winning last year's inaugural CAMS Motum Simulation VSR Showdown.
Shepherd was the first ever winner of the CAMS-sanctioned VSR Showdown at Sydney Motorsport Park last September. Despite his experience in the simulator world, Shepherd was conscious of not finding the limits of the Formula 4 car too early in testing.
"Everything feels comfortable and natural for me, but I'm not trying to push too hard and bin it," Shepherd said.
"It's amazing to be finally behind the wheel of one to get that sense of grip and power that you sometimes don't get at home."
Warren, who this year races for the Altus Esports squad, was still amazed at the difference of driving a race car in the real world. Though the experience of sim racing assisted in bridging the gap.
"The sim gives you an idea of how these cars react," Warren said.
"Myself, I have a karting background so they blend together and gives me a good gauge of how to drive these semi-competitively."
Whilst the simulator gives a driver a general idea of how a car is going to behave, Warren admits the sensation of physical grip and downforce is unlike any other.
"It's been really surreal… there are some similarities but a lot of it is so new," Warren said.
"These cars are so raw to drive, heaps of downforce, just amazing."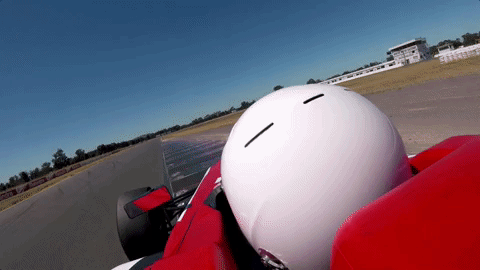 The reality of being in control of a race car worth tens of thousands of dollars was also another factor for Shepherd to be mindful of when behind the wheel.
"There's so many more things that you've got to process in your mind compared to when you're behind the computer," Shepherd said.
"Especially with the cost of damage. Finding the limit is a lot harder, because if you go over in the simulator you just press reset and you're all good.
"Whereas with the F4 car, it really takes guts as a driver to push to that limit and find what the car can do. It's helped me progress as a driver. Every time I push that little bit harder it seems to be there for me."
As for what lies beyond their respective Esports careers, the pair are looking to advance their online careers and the Australian Esports scene.
"I really hope that takes off. I think the community together, not just the teams themselves, but everyone works together to progress the sport," Shepherd said.
"I'm trying to be involved with that as well to help it continue growing and we have more opportunities like this for more guys. It's been an absolutely amazing opportunity and we should see more of it."
The VSR Showdown was a pilot Esports program in collaboration with CAMS and Motum Simulation, and it is anticipated further events will take place throughout 2019.